BUSH LARK SAFARIS is a Maun, Botswana based company offering Birding, Photographic and Tailor Made Safaris into some of Southern Africa's finest wilderness areas including the now World Heritage listed Okavango Delta and the Moremi Game Reserve, the Okavango Pan Handle, Savute and Chobe River front and the semi arid environs of Nxai Pan, Makgadikgadi Pan and the Central Kalahari and beyond.
Meet Disho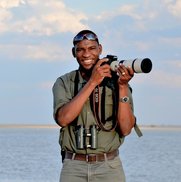 Gabatsholwe "Disho" known to his friends and guests as "Disho" is founder and owner of BUSH LARK SAFARIS. He was born in Ngarange village on the banks of the Okavango Pan Handle. Growing up in a remote and rural area, Disho spent his youth hunting and trapping with his two uncles, as is the tradition for young boys in the Hambukushu tribe. Hunting and gathering was Disho's introduction to the ways of the wilderness. Disho later attended high school in Maun some 400 km south-east of his home where he was exposed to a more conservation-based approach to wildlife and wilderness at large.
Disho's passion lies largely within the world of birds and photography. Having obtained a diploma in Travel and Tourism at college, he soon became involved in the tourism industry as a guide and has followed his passion for wildlife and conservation ever since.
Disho has also completed extensive training as a specialist birding and walking guide with the Okavango Guiding School, the Field Guide Association of Southern Africa (FGASA) and has developed an exceptionally practical and theoretical knowledge of the ecology of northern Botswana's wildness area. To this day, he still holds the reputation of being the first and only Motswana guide to be awarded a full specialist birding guide by the Field Guide Association of Southern Africa (FGASA).
Gallery
© Gabatsholwe Disho
View photographic guides